Custom Removable Insulation Wrap Specifications
All valves, strainers, autoflow valves, circuit setters, ball valves, balancing valves and combination valves, etc., in chilled water and heating hot water systems, shall be insulated with a factory fabricated removable and reusable cover.
Insulation shall have a minimum k- factor .26, using fiberglass blanket. Flame and smoke spread shall be 25/50 per ASTM E-84.
Outer jacket shall be made of material equal to DuPont Tychem® QC, overlapping and completely covering the insulation with seams joined by tabs made from hook and loop fasteners (Velcro). Butt ends shall have sewn- in-place elastic.
Outer jacket shall overlap adjoining sections of pipe insulation.
Installation shall not require the use of any special hand tools.
Manufacturers: No Sweat Valve Wraps, Inc., or approved equal.
Qualifications for use
Cold Systems
For fittings where operating temperature is below 45°F (7°C), or where the pipe insulation is greater than 1.5" (38mm), two or more layers of the insulation inserts are required beneath the NO SWEAT™ valve cover surface.
Hot Systems
Tychem QC should be limited and kept below 200°F (93°C) by use of proper insulation thickness.
Tychem QC should be kept away from contact with, or exposure to, sources of direct or radiated heat.
For fittings where operating temperatures exceed 250°F (121°C), or where pipe insulation is greater than 1.5" (38mm), two or more layers of the insulation inserts are required beneath the NO SWEAT™ valve cover surface.
Operating Temperature Limits

| | |
| --- | --- |
| Tychem® QC: | Up to 200°F (93°C) |
| Insert: | 0°F to 450°F (-18°C to +232°C) |
Fire/Smoke Performance

| | |
| --- | --- |
| Flame Spread: | < 25 (per ASTM E 84) |
| Smoke Developed: | < 50 (per ASTM E 84) |
Physical Properties of Tychem QC
Total Basis Weight
ASTM D3776-90
2.5 oz/yd2
Thickness
ASTM D1777-75
10 mils
Water Vapor Transmission (WVT)
ASTM E 96
0.01 Perms at 37.8C / 100F - RH / 100%
Mullen Burst
STNM D3786-87
65 psi
Breaking Strength Grab (md/cd)
ASTM D5034-90
43/49 lbs
Tearing Strength Trapezoid (md/cd)
ASTM D1117-80
7/5 lbs
Grade:
Weatherable
Color:
White/gloss finish
General Properties of the NO SWEAT™ Reusable Valve Wrap when Used over a Properly Installed Fiberglass Insulation Insert

| | |
| --- | --- |
| Temperature limits: | 0°F to 450°F (-18°C to +232°C) |
| Sanitary/Odorless: | Will not absorb odors. Provides no food for insects, rodents, or mildew. Resistant to fungi and bacteria. Does not promote growth. |
| UV Resistant: | Use indoors or outdoors. |
| Excellent Appearance: | Bright high gloss white coloring adds a distinct quality appearance to the system. |
| Long Lasting: | Can be used and re-used once applied. |
| Vibration Resistant: | Will not settle or separate. |
| Fire Safety: | DuPont Tychem® QC fabric is rated as "Class 1: Normal Flammability" no unusual burning characteristics. The NO SWEAT removable valve wrap fiberglass insulation inserts have a UL 25/50 rating and are non-combustible per ASTM E 136. Accepted for commercial, institutional, industrial, and residential projects in all parts of North America. |
Thermal Efficiency of Insert (ASTM C 177)

| Mean Temperature | Mean Temperature (SI) | k | k (SI) |
| --- | --- | --- | --- |
| 100°F | 38°C | .28 | .040 |
| 200°F | 93°C | .38 | .055 |
| 300°F | 149°C | .52 | .075 |
| 400°F | 204°C | .70 | .101 |
| 500°F | 260°C | .90 | .130 |
About Tychem QC
Durable Tyvek substrate coated with polyethylene
Resists punctures and tears
Remains flexible even in cold temperatures
Impermeable to water
Custom Removable Insulation Wrap Sizing
Ordering - Custom Removable Insulation Valve Wraps
Ordering is Easy!
Order over the phone by calling 800-416-4610
Order via fax at (302) 731-0932 (Please include your name, phone and email so we can contact you if we have questions)
Order via our contact form
TERMS OF SALE
All sales are in U.S. Dollars. All NO SWEAT Reusable Valve Wrap products are sold subject to the NO SWEAT Limited Warranty and Limitation of Remedy that is stated in print on the NO SWEAT submittal sheets, and reiterated above under the Warranty tab. Reference the NO SWEAT Submittal Sheet (PDF) found on this website or call 800-416-4610.
RETURNS - There is a 25% restocking charge on all NO SWEAT approved returns. No Return Authorizations will be granted on special ordered material or slow moving product sizes.
NO SWEAT Valve Wraps, Inc. reserves the option to refuse business from any accounts that experience payment difficulties.
NO SWEAT Valve Wraps, Inc., accepts all major credit cards.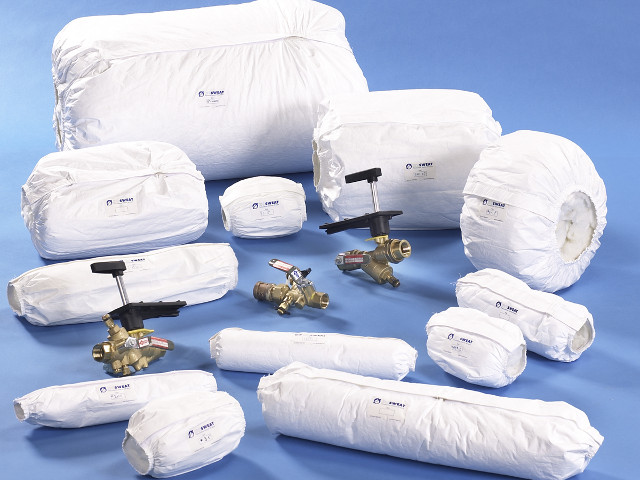 Custom fit NO SWEAT insulated valve wraps can be designed to fit unique valve specifications quickly and easily. For a fee of $150.00 plus the cost of the valve wrap, NO SWEAT can run a sample of your custom wrap within two weeks. Simply provide the following information when you contact us:
Valve photos
System type and measurements
Type of insulation and insulation thickness
Time frame needed
Estimated quantity
Limited Warranty and Limitation of Remedy
The physical and chemical properties of NO SWEAT™ insulated valve wraps represent typical, average values obtained in accordance with accepted test methods and are subject to normal manufacturing variations. They are supplied as a technical service and are subject to change without notice. Numerical flame spread and smoke developed ratings are not intended to reflect hazards presented by these or other materials under actual fire conditions. Check with a NO SWEAT™ technical representative at 1-800-416-4610 to assure current information. Purchaser will be responsible to determine stability of this product for purchaser's use. NO SWEAT™ liability will be limited to the purchase price of the material. No person is authorized to alter this without a NO SWEAT™ officer's written approval.