NOSWEAT™ Reusable Valve Wraps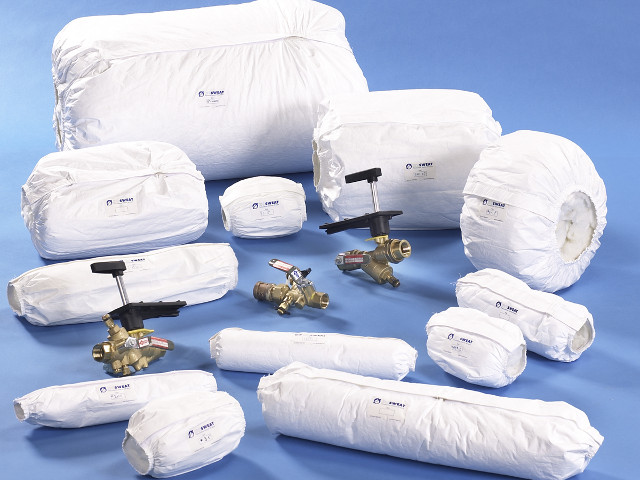 An innovative, flexible, insulation system designed for use with pipe insulation to prevent condensation, and combat mold and mildew.
Quick and easy to install, and ideal for indoor or outdoor use! Can be used with domestic water, chilled water, dual temperature, hot water and steam along with other piping systems in commercial, institutional and industrial applications.
Fits standard insulated pipe sizes
Noncombustible and impermeable to water
Insulated covers are removable, reusable, flexible and compressible
No "stepped" cutting required
Installs 10 times faster
Cost-effective way to "green-up" your mechanical system
Reduces heat loss
NOSWEAT™ valve wraps can be installed on indoor/outdoor piping systems including chilled water, hot steam, dual temperature and domestic water along with other piping systems in commercial, institutional and industrial applications. Outdoor vertical applications should be sealed on all North Ends by the use of a white matching PVC tape or equal.
---
Selecting the right valve cover is easy!
Worry Free Performance! No More Call Backs!
NOSWEAT™ valve wraps fit almost any valve and match almost any fitting profile, are Non Combustible, and Impermeable to Water
I would like to take this opportunity to tell you the value of your No Sweat Valve Wraps to Viking Industries Inc. Viking Industries Inc is an insulation contractor in the Rhode Island/ Massachusetts territory. Prior to your Valve wraps, on many projects, we would have to leave the balancing valves uninsulated until the entire system was installed and balanced. This would usually result in us having to open ceilings and run around sealing up valves at the last minute of the project. With the advent of your No Sweat Valve Wraps, we can complete our work as we go, and when the balancer comes by to do his work, they just open up the wrap, and close it up when done.

This is a huge labor and headache savings for us.

I thank you for designing these, as, they make life so much easier for an insulator.