NOSWEAT™ Reusable Valve Wraps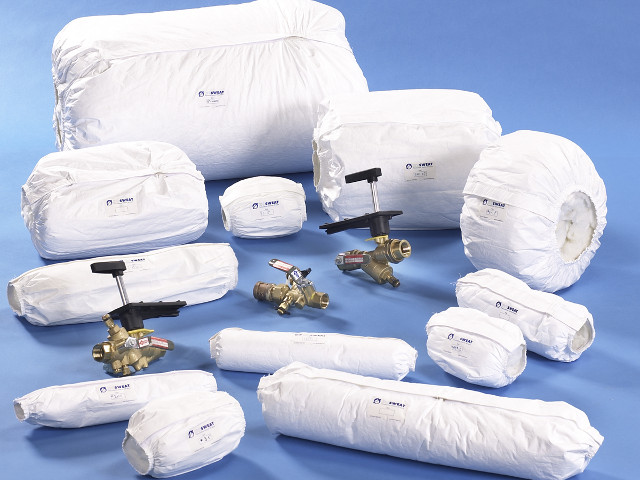 A patented, flexible, insulation system designed for use with pipe insulation to prevent condensation, and combat mold and mildew.
Quick and easy to install, and ideal for indoor or outdoor use! Can be used with domestic water, chilled water, dual temperature, hot water and steam along with other piping systems in commercial, institutional and industrial applications.
Fits standard insulated pipe sizes
Noncombustible and impermeable to water
Insulated covers are removable, reusable, flexible and compressible
No "stepped" cutting required
Installs 10 times faster
Cost-effective way to "green-up" your mechanical system
Reduces heat loss
NOSWEAT™ valve wraps can be installed on indoor/outdoor piping systems including chilled water, hot steam, dual temperature and domestic water along with other piping systems in commercial, institutional and industrial applications. Outdoor vertical applications should be sealed on all North Ends by the use of a white matching PVC tape or equal.
---
Selecting the right valve cover is easy!
Worry Free Performance! No More Call Backs!
NOSWEAT™ valve wraps fit almost any valve and match almost any fitting profile, are Non Combustible, and Impermeable to Water
NOSWEAT Valve Wraps continue to be a revolutionary product in the thermal insulation industry.

We've used NOSWEAT Valve Wraps on many of our projects and our clients have all been ecstatic with the overall results and performance of the product. Utilizing NOSWEAT Valve Wraps allows us to be unique by providing value for our clients in terms of affordability and a cost-effective solution to any required preventative maintenance in operating and fully functioning facilities.

The availability of the various product types and sizes provides a multitude of different options for a variety of pipe designs including valves, strainers, fittings, and other in-line piping specialty components. Additionally, from a contractor's perspective, the ease of installation makes NOSWEAT Valve Wraps an aesthetically pleasing and critical resolution for many types of indoor and outdoor applications.